"Is it nothing to you, all who pass by?" "Man ass" and other LIRR jokes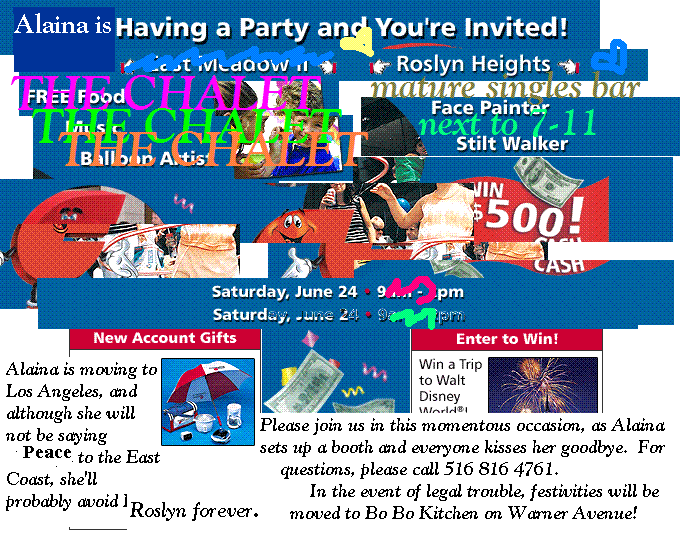 It is true that I double-booked my going away party with my brother's high school graduation, but I somehow had both cakes and ate twice. While I sent text messages and played I Went To A Chinese Restaurant To Buy A Loaf Of Bread Bread Bread with my six-year-old cousin during the ceremony, Chan killed time in Roslyn and waited for me. At midnight, Owen and BJ arrived at the Roslyn train station.
Our foursome made a few quick stops [one was to 7-11] and then we walked to Chalet. The closed entrance door had a posted notice asking that patrons respect the dresscode. Very disrespectuflly, we entered Chalet.
Everyone at the bar turned and stared at us, ending their conversations but leaving their mouths open. It felt like it was accompanied by the record flying off the turntable. I didn't smile and I didn't wave because I didn't want to blow our chances of being served alcohol. We walked around the bar and up a flight of stairs.
The second floor is a string of rooms loosely separated by open curtains that contain couches, martini menus, and adults making out. All of them had loud music and soft lighting. We walked through a few lounges and decided to temporarily sit in one to plan our alcohol attack. A couple was far across the dark room and although I couldn't hear or see them very well, I could tell that the male was huffing because of our appearance.
What Did He Expect To Do In Here? I posed to my friends as I explained that we had to leave. It's Big And It's Not Like He Can Fuck In Here Anyway.
We walked to the staircase and stepped to the third floor. It is a small hallway, at the end of which is a bathroom that a woman was stumbling toward. Along the way there, however, she was passing two locked doors that read, "Private." A moment later, I bumped into the angry male from the second floor. Up close, it became clear that he actually colored in his tan with a brown crayon. I asked him about the Private rooms.
"Those are bottle service."
"Yeah? How do I get in?"
"You hafta buy a bottle and then you get the room to yourselves."
Believe the hype! Chalet has sex rooms.
When I bragged about going to Chalet, most people asked, "So, did you get hit on by any old men?"
I didn't. Nobody at Chalet was interested in us. Without acknowledging us, the patrons, some of whom were dressed in unexplained tuxedos and long gowns, interacted as loudly and lewdly as they would any other weeknight. Aside from the sauce, it was kind of like being at the zoo.
After we left, I tried to use my fake I.D. in 7-11, but the main guy who works there recognized me as younger than 28 and also not from North Carolina. My blunder might have been embarassing if I wasn't leaving, but I is so it ain't. Bye-bye, Roslyn.
My Top Eight [Songs For Moving]
8. Ben Folds Five -- Steve's Last Night In Town
7. The Beach Boys -- That's Not Me
6. Jens Lekman --
Run Away With Me
5. The Boy Least Likely To --
I'm Glad I Hitched My Apple Wagon To Your Star
4. Ryan Adams -- New York, New York
3. Figurines --
Silver Ponds
2. Art Brut -- Moving to LA
1. Jeffrey Lewis -- Moving
Recommendations For A Hot Summer In The [New York] City
[under the assumption that friends are not 21+ ]

June 29 - Land of Talk - Syrup Room
June 30 - Matt Pond PA, Voxtrot - Prospect Park*
July 1 - Elvis Perkins, The Little Ones - Bowery Ballroom
July 2 - Aa, Japanther, The Wowz, and more! - Stuyvesant Cove Park*
July 2 - Seu Jorge - Central Park Summerstage
July 4 - Beirut - Office Ops Rooftop
July 6 - Mates of State - Castle Clinton*
July 7 - Les Sans Culottes - Magnetic Field
July 9 - Broken Social Scene - China Club
July 13 - Les Sans Culottes - Warsaw
July 15 - Siren Music Festival: Scissor Sisters, Man Man, Art Brut, Dirty On Purpose, Tapes 'n Tapes, and more! - Coney Island*
July 16 - Tapes 'n Tapes, Someone Still Loves You Boris Yelstin - Maxwell's
July 19 - Vetiver - Soundfix Records*
July 20 - Diplo - Warsaw
July 21 - Jens Lekman, Beirut - Bowery Ballroom
July 25 - Langhorne Slim - Maxwell's
July 26 - Danielson - Knitting Factory
July 27 - Dracula by Kronos Quartet with Philip Glass - Prospect Park*
July 29 - Silver Mt. Zion - Bowery Ballroom
July 30 - Of Montreal - McCarren Park Pool*
July 31 - Amanda Jo Williams - Pete's Candy Store*
August 4 - Hot Chip - South Street Seaport*
August 6 - Gravy Train!!! - Kitten Factory
August 11 - Jim Noir - Bowery Ballroom
August 13 - Deerhoof, Beirut - McCarren Park Pool*
August 17 - Trachtenberg Family Slideshow Players - Maxwell's
August 21 - Frank Black - Beacon Theater
August 25 - Ted Leo & the Pharmacists - South Street Seaport*
August 27 - The Walkmen, Dr. Dog, Elvis Perkins - McCarren Park Pool*


* free